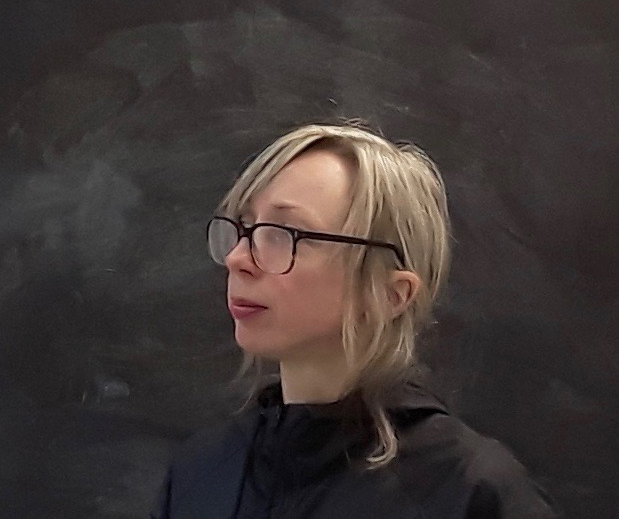 Dr. Clare Stephenson

Clare Stephenson is an artist based in Glasgow and one of the volunteer committee members of Glasgow Project Room. She has exhibited at DCA, Dundee; MARRES, Maastricht; CCA, Glasgow; MoMA PS1, New York; The Drawing Room, London and has had solo exhibitions at Transmission, Glasgow and Spike Island, Bristol. She has also staged collaborative performances with Sophie Macpherson at Tramway, Glasgow and at the ICA in London. Her PhD project used a materialist feminist methodology, archly performing the conditions of working as a 'female sculptor' within the dominant image regime. It attempted to find critical agency in relation to trends in art and consumer culture that sought - and sometimes essentialised, fetishised or commodified - subjective bodily presence, and worked out of the intersection of sculpture, performance, photography, fashion and autofiction.
Thesis Title: Girl Gets Drunk and Goes Swimming'. A Shift in Means for the Female Sculptor

This research contributes to the aesthetic development of the PhD in Fine Art Practice. It acknowledges the written thesis as part of the currency of contemporary art and expands this form as a productive space for art practice. I took a materialist approach to the research and made use of the context as material. I took scraps of fabric, the residuum from recent projects, as evidence of a shift in means. This was the thesis. I used these scraps to produce a methodological tool: a bikini. The bikini was used as a contextual diagram, sculptural object and costume. It was studied, handled and (figuratively) donned. In this way I moved around as an implicated and analytical subject within the project. The bikini was a dialectic that I stepped into.
Self-categorising as a female sculptor, I absorbed dominant trends and found myself drawn in to my own work as a performative artist-subject. I followed the narrative of this protagonist, ending up in an exhibition with the stylist and fashion photographer Maripol. She suggested a narrative for the sculpture I produced: 'Girl gets drunk and goes swimming', viewing the work as an allusive fashion photograph. The remark became a crystallization of the conditions I have encountered as a woman making sculpture within a dominant image regime. This then dictated the logic of the written thesis.
The core of the written thesis is a condition report on this sculpture. The research has developed a space of critical consciousness through a layering of parallel sites of activity. Knowledge production happens in the social sphere, in correspondences and productive antagonisms between these layers. The text is sculptural and durational, with moments of high saturation. It is a reflection on means, ends and meaning. As such, findings are embedded within the operation of the text as an artwork.
Awarded Date: 27/03/2018

Principal Supervisor: Tom O'Sullivan

Second Supervisor: Professor David Campbell

Link to Thesis