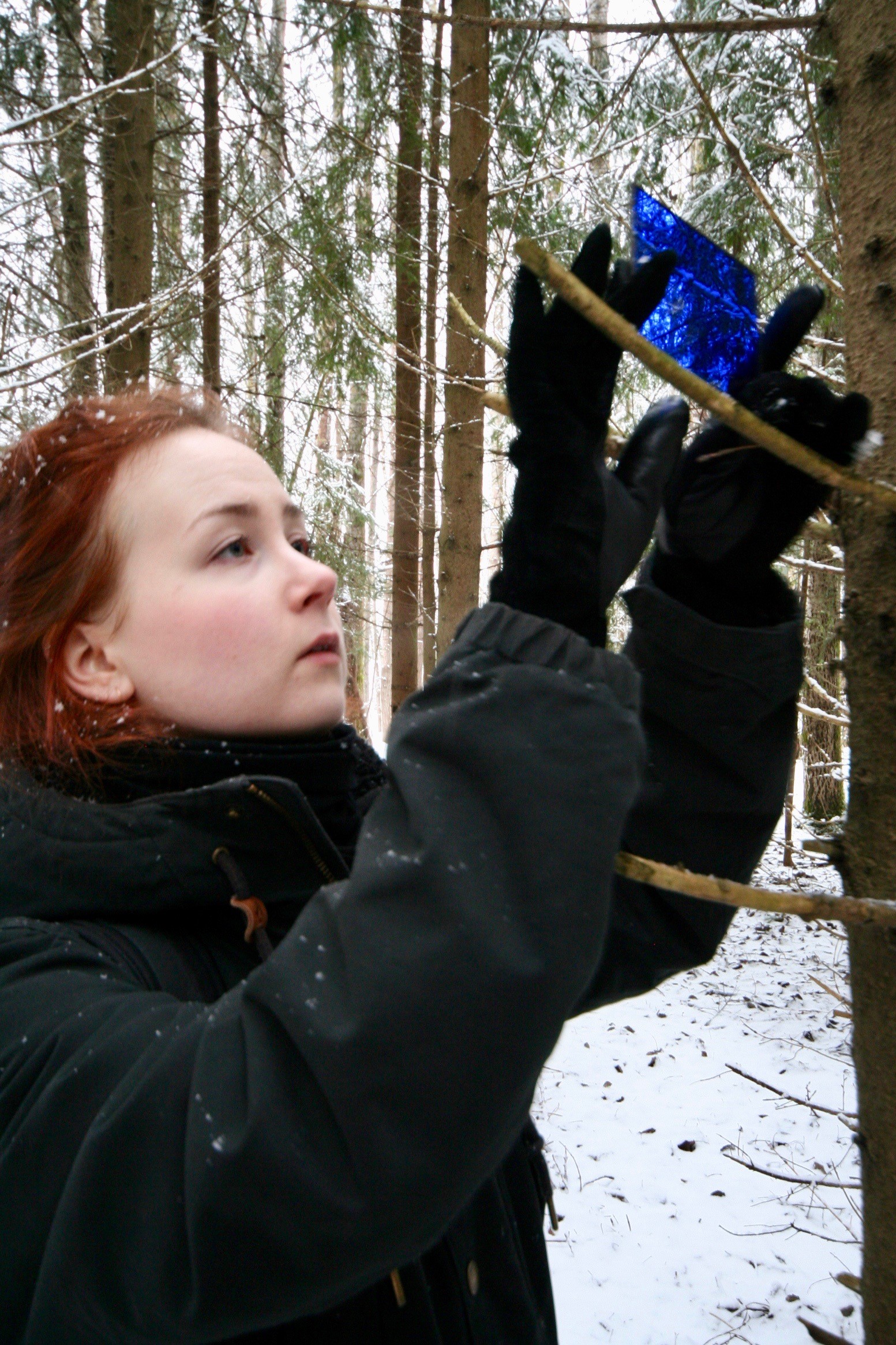 Dr. Riikka Haapasaari

Haapasaari is an artist and a researcher working primarily with moving image. She is interested in developing ways to integrate traditional craft processes such as glassmaking into the production of moving image projects and investigates the area between craft, cinema, and fine art. Before her research in Sunderland, Haapasaari studied glass at the Royal College of Art in London and at the Aalto University in Helsinki, Finland. She has completed a number of residencies and fellowships such as the Kanik Chung Legacy Fellowship (MassArt 2016), Edinburgh College of Art AiR (2014-15), and Sincresis Association AiR (2013). Haapasaari has shown her work globally in exhibitions and festivals, and had two solo shows during her research project in Sunderland in 2018, first at the Finnish Glass Museum in Riihimäki, Finland, and later at the Glass Factory in Boda, Sweden. Light Keeper, an experimental feature film she produced as a part of her research, won the experimental film category in the Polish International Film Festival in 2020, and Haapasaari was also nominated in the Best Director category for her work with Light Keeper at the Alternative Film Festival Toronto in 2020.
Thesis Title: Glass taking the lead: glass-informed filmmaking in creative practice

Growing from the extended field of glass, this practice-based research on the relationship between glassmaking and filmmaking in creative practice presents glass-informed filmmaking as an integration of these two disciplines situated in conversation with the fields of glass, craft, fine art, and cinema. Glass-informed filmmaking is a term developed through this thesis and the development of an experimental feature film Light Keeper that utilizes the glass-informed approach. Together these describe moving image projects that incorporate these two disciplines in a symbiotic way. This research project identifies specific qualities of glass-informed filmmaking that are distinct from both glassmaking and filmmaking. These comprise of an approach based in tacit knowledge to developing and producing moving images, an intimate perspective to the materiality of glass as seen through lens-based media, and a necessity of glass-specific artisanal knowledge and its intuitive implementation in navigating successful glass-informed film productions. Utilizing methodology rooted in autoethnography in examining a glass-informed filmmaker's process of producing a feature-length film, a model of glass-informed filmmaking practice arises. This process is discussed in relation to examples from both filmmaking and glassmaking traditions, including related festivals and publications, thus building a comprehensive perspective to an emerging niche of creative practice with a reference point in the screendance tradition. No prior research exists apart from mentions in exhibition catalogues and essays, as well as papers that touch upon specific aspects of this practice such as exhibiting craft films and optics.

This discussion is extended to other creative fields through examining avant-garde cinema and topical debates within the crafts, and further elaborated by addressing pertinent topics such as artistic research, experimentation, and discipline-specific skill, technique, tradition, and knowledge. The thesis is structured around the stages of film production to reflect the entwined relationship of written research and practice central to this enquiry. Where relevant, aspects of this practice are also discussed in relation to the different stages of creative process to give insight into the particularities of glass-informed practice. Central contributions to knowledge presented in this thesis are establishing key terminology to describe glass-informed filmmaking, a discussion about this practice and its context as an introduction to academic enquiry, and the production of a pioneering glass-informed feature film and related commentary that highlights the fundamental aspects of glass-informed filmmaking practice, showing that the glass-informed filmmaker is essentially a sculptor of time and an active participant in glassmaking processes. This research describes glass-informed filmmaking as a yet underexplored approach with opportunities for expanding creative practice, and builds a foundation for further research.
Awarded Date: 12/03/2021

Principal Supervisor: Dr Carol McKay

Second Supervisor: James Hutchinson

Link to Thesis

Website